The original tutorial was created with a Pre-2.4 version of GIMP. While most of the steps should be the same, many of the screenshots might not reflect the 2.4 GUI. I've updated as many of the steps as I could think of (I'm not on a machine with version 2.4 at the moment) and *hopefully* this will alleviate any confusion. I ultimately plan on updating this tutorial with new screenshots and information, as needed. Sorry for any confusion the previous steps may have caused GIMPers familiar with only the 2.4 interface. Best wishes. Art
As promised, here are the steps I utilize to cut out renders (a.k.a. background removal) to allow the renders to be used in signatures, backgrounds, etc. Everyone has their own method of cutting out renders (masks, eraser tool, etc.) and there really isn't a right or wrong way. This is just my way, as I've found it to be the fastest way for me.
I decided to split this tutorial out away from the "Creating and Using Paths" tutorial for a number of reasons. The deciding factor to do this was many people are interested in cutting out renders, but don't know that paths are useful in accomplishing this task. So, if they come to the boards and see the paths tutorial, they might overlook that tutorial altogether believing it won't do anything for them.
Please note: This tutorial is an intermediate to advanced level lesson. If you are not familiar with creating paths in GIMP, you need to become proficient with them, and there's no better place to start than here:

**********CLICK HERE FOR: Creating and Using Paths**********

If you have questions, I have no problem helping you out; HOWEVER, my first question will be, "Did you go through the Paths tutorial?" I know my tutorials are not perfect, but I've gone through great pains to improve the quality of the presentation and make them more enjoyable. That said, please re-read what I've written and watch the animations I've prepared. If you still don't understand, no problem, drop me a line and I'll be more than happy to help you."
Alright, let's begin our tutorial:
[*]Open up the image you wish to cut away from the background. If you plan on using an image that has no transparency to it or you'll be working on the background layer, you need to add and "Alpha Channel" to it. Here's how you do it: Right-click on the layer and select "Add Alpha Channel"
Now that you've gotten that out of the way, you need to create your path around the object you wish to cut out. Again, I'm not walking you through those steps. But I will give you a couple of suggestions that I've found work best for me:
[*]Zoom in on the object as far as you can. Don't worry about not being able to see your entire render. You'll be able to pan around the screen while creating the path. But for the best results, you need to be up close and personal with the object.
[*]Because the edge is not always well defined, I would err on the side of caution by placing your anchor points closer to the object where you are sure the edge is. You may lose a little bit of detail, but blending, blurring, etc. can help correct that.
[*]Don't go overboard placing anchor points. I've found that adding too many makes the render have a jagged or blocky appearance. What I generally do is create an anchor at every location where there's a major direction change. Later, I go back and use the "handles" to create curved line segements to more approximate the render edge. If additional anchors are needed, I'll add them at that time. Sometimes a render has to have a lot of anchors, that's ok, just use your best judgment, there are no rules.
Here's my example of a render I'm working on. The red line is there only to show what the path looks like. Yours won't look like this.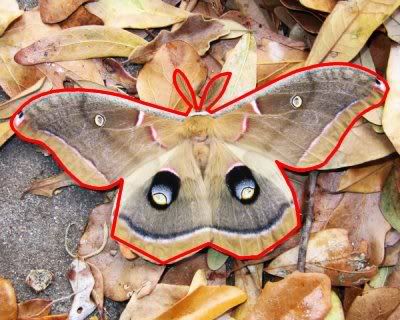 As you will note, I've adjusted most of the path on the moth to fit the outline. I left some of the path as originally drawn to show that my first path wasn't made to fit the object too closely. Also, remember to close your path when you get done. (Ctrl-click on first path anchor) Even if the path doesn't look the way you want it to and corrections are needed, close it. If you don't, and you convert it to a selection before closing it, GIMP will automatically do it for you. And depending on the distance between your first and last anchor, you may not like the results. The nice thing is, paths are always saved and can be edited later.
This next graphic shows me adjusting the path on the bottom portion of the moth. Here, I'm adjusting curves with the handles and moving & adding anchors as needed.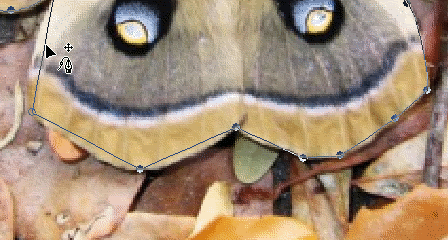 This next screenshot show me:
[*]Converting the path to a selection. (Outline around the render)
[*]Inverting the selection (Ctrl-i) Notice that everything outside of the render, including the outline along the image edge, has the marching ants. They weren't like that when we just had the render selected.
[*]Deleting the background
(Ctrl-K for versions prior to 2.4) (Delete key for version 2.4 and above)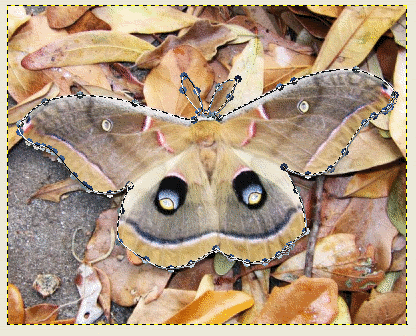 Here's a final screenshot with a new background. Looks pretty good doesn't it!?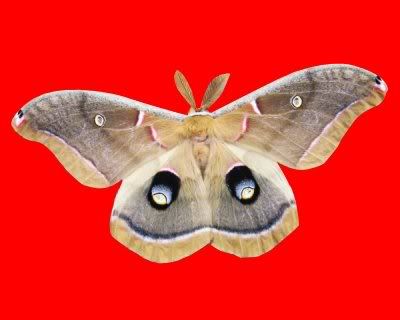 Well, I hope you learned something and will be able to put this in your arsenal of tricks. If you have any questions or need clarification, please don't hesitate to ask.
Be forewarned: My first response to your question will be in the form of a question. BTW, a "YES" response on your part will NOT suffice.
Happy GIMPing!
Art (fencepost)