1. New Image: White Background, Size at least twice as big as you want your final image like 800X600.
2. Basically the Same as my
foil paper tutorial
. Select the Gradient tool. Use "four bars" or "default", Gradient linear, Set it to "Difference Mode". Then start clicking rapidly and all around the document (Around 25 clicks). You should see something like below.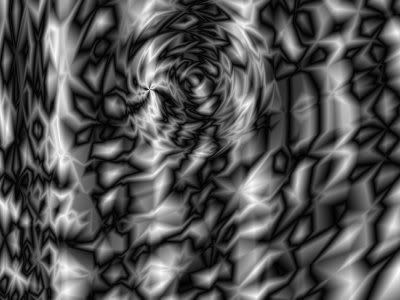 3.Now Filters->BLur->Pixelize. I am using 10X10.
4.Now make a new transparent layer called "border" or whatever you want. Fill it with a 10X10 grid pattern.
SEE MOSAIC GRID TUTORIAL
. Set the layer opacity to 30%. Then merge that layer with your pixelized layer.
Now we have our base we will start making our different backgrounds. We start with the simple to the difficult.
First, let me say that we have made our background twice the final size for a reason. To get it to its desired size do Layers->Layer Boundary Size... then resize it and make sure there are no empty spaces in the preview window. I usually center mine.
Second, to get a desired color use Layer->Colors->Colorize. Then play with the different values to change the colors.
IMPORTANT
Third, Everytime we start a new backgroud we will duplicate our base layer and give it some color and work on that duplicated layer. To avoid having to repeat myself over and over.
IMPORTANT
Background ONE
Now Layer->Transform->Arbitrary Rotate. Do 45 degrees. Then resize your layer (just that layer). Simple huh.

Background TWO
Now shear your layer. Tools->Transform Tools->Shear... I did the x by like 500.
Background THREE
A little more complicated but not that much. Do a Tools->Transform Tools->Perspective. Now pull the squares out like below. Then do a Layer->Layer to image size. Repeat those steps as many times a you fill you have to get the right look. You can also push the top two in.

Background FOUR
Read my
foil paper tutorial
if you don't know how to create and save a pattern. Make a new 10X10 image. Take your gradient tool (white to black) from the top left to the bottom right. Save that gradient, then refresh your gradients. Select your bucket fill tool, CHANGE THE MODE TO OVERLAY, and use pattern fill. Will our pattern selected, fill the image. I did it twice.
Background FIVE
Now create a pattern from top to bottom.

The End. Play with the patterns. Try 10X20 or 20X20 (with opposite gradients in each sqaure). Use a radial gradient from the center of your pattern.