I saw this tutorial at
http://www.pixel2life.com/
(it was photoshop tutorial so I converted it).
http://v2.hestudios....hotoshop/mosaic
. Its pretty much the same till about step 7.
Scroll to the end to see the original and final results.
Step ONE:
Open up a picture. I chose one 640Xx480px (all imgs are scaled by 50% to save space, except the original and final) I downloaded it from
http://www.morguefile.com
.
Step TWO:
You will need three layers. The top layer should be transparent and the bottom two should be the image (duplicate the background layer).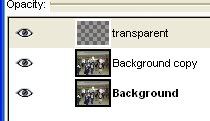 Step THREE:
Now, with background copy layer selected go to Filter > Blur > Pixelize. Set the width and height to 10X10. You can use a different width and height but for this tutorial the following step is dependent on 10X10.
Step FOUR:
Create a NEW IMAGE 10X10px in dimension. If you used a different pixelize w&h then use that. Now create the pattern below and save "name".pat in your patterns file.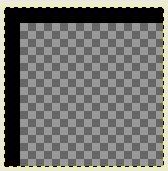 Step FIVE:
Now back to the first image, select the transparent layer. Select the bucket fill tool. Now, in your Tool Options Dialog set the FILL TYPE to PATTERN FILL. Refresh your patterns and use the newly created pattern.
Step SIX: (OPTIONAL)
You can reduce the transparent layers opacity to give it a better effect, try 25%. Then you want merge that layer down with the pixelized layer.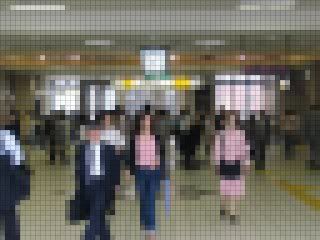 STEP SEVEN:
Now create a new layer. Fill with black or white, which ever is easier for you to see things with and then add layer mask, Layer->Masks->Add Layer Mask (WHITE FULL OPACITY). I used black and will call it the black layer.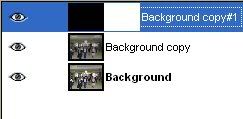 STEP EIGHT:
Now make your original background visible and the others invisible (uncheck the eye). Now with your FREE SELECT TOOL (LASSO). Select the objects you want to appear throught the mosaic grid. I choose that guy cause he looks like he is having a bad day and the clock stuff just because. Don't worry about getting the selection exactly right.
STEP NINE:
Selection looks terrible right? Who cares, we got skills and we'll fix that. Now make your black layer visible again and select the layer mask. Fill the selection with the color black.
STEP TEN: (OPTIONAL)
Now we could just stop here but were not (ocd I guess). YOU CAN JUST LEAVE IT! You won't even notice the edges when we get done. I just have SHAAKKKYYY hands and can't free select objects that well, so there a little for me to clean up.
Now here is where we fix are edges (NOTE YOU WILL WANT TO LEAVE A LITTLE SPACE, like 2 or 3 px, AROUND YOUR OBJECT, DON'T GET IT TOO PERFECT). With the layer mask still selected go around your objects with the pencil or brush using the color black to add objects from your background and the color white to remove them. I like to zoom to like 800% and use a small brush of like 5 or 3 pixels. BUT WHATEVER! Here is what I ended up with, a little better.
STEP ELEVEN:
Now do a SELECT ALL on your layer mask, then copy it (ctrl+c). Hide your black layer and Show your pixelized layer. Select your pixelized layer and add a layer mask (whatever WHITE FULL OPACITY WILL DO). Then select your new layer mask. Then paste, then anchor your floating selection. You should see something like this.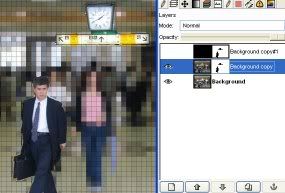 STEP TWELVE: (OPTIONAL)
You could just leave it like that, BUUUUUUTTTTT we won't. Now with your pixelized layer's layer mask selected, do a Filter->Blur->Gaussian Blur. I did RLE 15X15 but it doesn't matter really choose what you fill is best.
Final: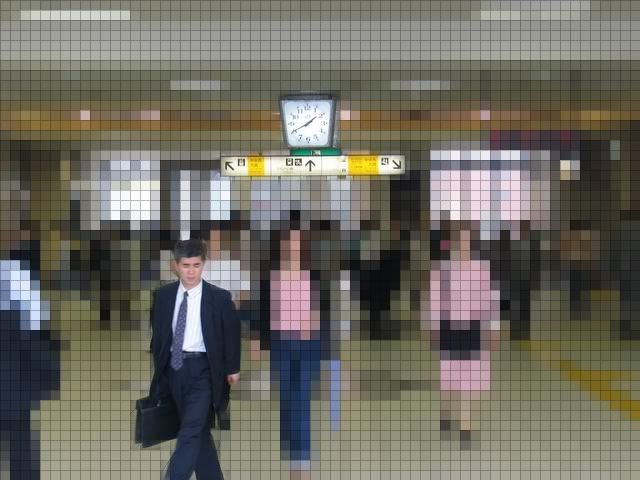 Original: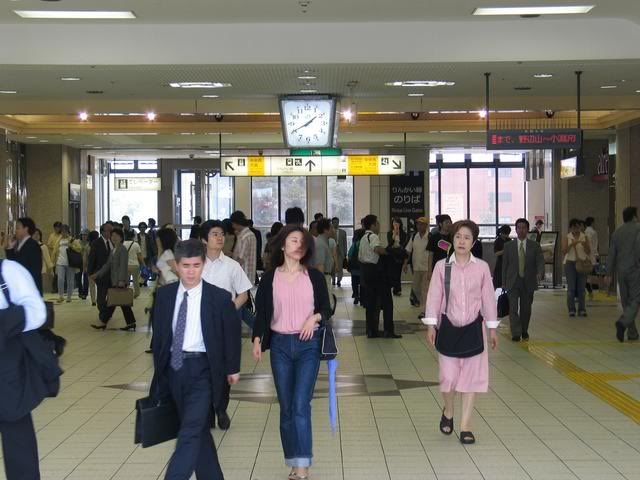 I hope you like the extended version of the tutorial. The images aren't perfect but you get the idea. Use a smaller grid size to keep more of the background detail.
You can do plenty other things like use a zoom blur instead to create a different effect.
The layer mask skills will help do many other tricks like changing your photos of bad vacations to photos of vactions at some resort island.
NC