[center]
Inserting a pre-made animated .gif onto a background of your choice
By Sean-Michael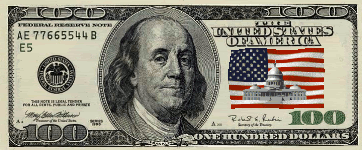 Getting Started.
[*]1. You will need to create a new folder for your work. The reason for this is because you will soon have many frames, in this lesson you will have 8 video frames! I'll call my folder "Animationlesson" and I keep it handy.
[*]2. Create your background, meaning create What you want the animation to move on! I'll use a background 150x362, Remember this can be anything even photos! Once you are happy with your image go to next step.
[*]3. Ok now you need to save this in a file Format that the (GAP) can work with "GAP only works with certin file types". Here is the way to save Name__000001.xcf only change the Name leave the rest exactly the way it is! "_000001.xcf" I'll save mine as "Animationtut_000001.xcf" and remember that folder we made... It needs to be save there so we can keep track of it!
[*]4. Prepair the Animated .gif for insertion to you background. Ill include a pre-prepaired .gif for you to work with but there are lots of sites that share pre-maid .gif for you to use... just search the web.
**This One**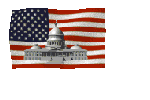 [*]5. Before continuing Please confirm that you have both "A BACKGROUND" and "PREMADE.gif"
[*] Make sure to set you animated gif and Background to RGB color mode! "Image Window"
I
mage/
M
ode/
R
GB
[*]6. This is where it gets fun! LOL Open both Images...With the "Animationtut_000001.xcf" selected select Video/Duplicate Frames... you get a window like this,
If your useing the animated.gif I supplied enter 7 for number of times duplicated! Click ok and then go to that file we've
been working on and you'll see 8 video frames! Now you know why the special folder. Yea, now we get to animate our project!
[*] Make sure to set you animated gif and Background to RGB color mode! "Image Window"
I
mage/
M
ode/
R
GB
Making our Animation Animate!
[*]7. From background image select Video/Move Path... and you get a window like this...
**WAIT**
Mines is a screen shot from my previous (GAP)Tutorial
Study this and its parts I will refer to them later and there corresponding Letters like shown.
[*]8. As you can tell my settings are different than yours, you need to change a few! First change "B" to "Loop", "G" needs a check mark, "C" is up to you it determines how to hold your source image, "A" to the first Frame of your .gif
Ready?
[*]9. Now you decide where you want your .gif inserted... I put mine on the right side and adjusted it exactly where I wanted it... when you done move on to #10.
[*]10. At this point I want you to click "J" A window like this will popup and I want you to add the values I have and click
"OK"
[*]11. Now two new windows popup these are only for preview *Do not save them!* If you don't like the way it looks you can close these "BOTH" without saving and edit the current point and preview again! If you do like the preview close the windows
*without saving!*
[*]12. Click "L" and your work will be recorded by GAP, You will not see it but trust me it is and you will see it in a few steps.
[*]13. So now that you have placed you .gif Ill show you the next cool tool! From Background image Select Video/Playback... and you get another tool. Play a little bit if you wish! After all your almost done right!?!:)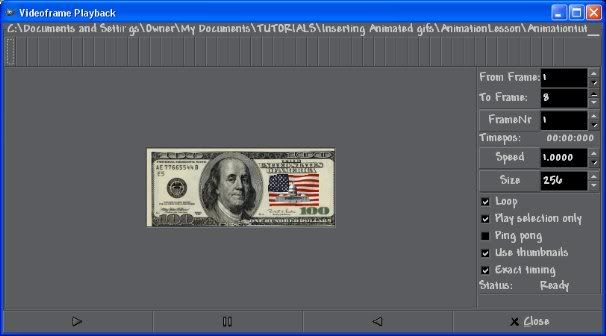 When you none click [/u]C[/u]lose
[*]14. From Background image Select Video/VCR Navigator... and you get this,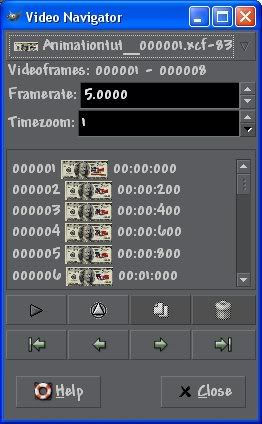 With this tool you get to specify the frame rate in frames per second "FPS" I've ended choosing 5fps I believe. When your
done close this tool and then from BackGroundImage select Video/Frames to Image... You'll get something close to this, maybe the Layer Basename will be different but you shouldn't worry, simply click "ok". and you'll get an image with 8 animated frames!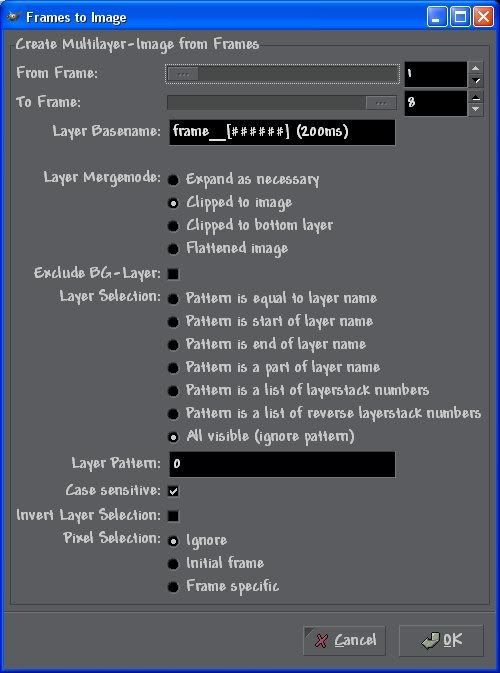 [*]15. You have a frame per frame animation know which is great however the data size if
Saved in this condition would be
Huge!
You want to save some size right! Especially for use on the web! So from you new image select Filters/Animation/Optimize
(For GIF).A few moments you get a new image that may looks like it's missing stuff but it isn't, it is only combining frames
to cut down on data size! You can preview by selecting from new image Filters/Animation/Playback... and you get a preview. When you done go to step 16
[*]16. Save you image as .gif and enjoy!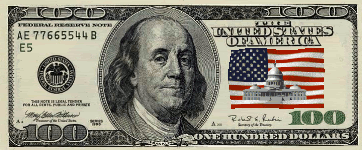 Please share your work or thought or let me know if Im missing something :l: Lol
Sean-Michael