Today's tutorial is on how to create stereograms, or those fancy graphics that contain a hidden image within a pattern. My first stereogram can be found here:
Infinity Stereogram by Fencepost
You've probably seen the famous Magic Eye products. Their publications seem to be the most popular. You can view their website here. For those that are "stereogram challenged", the site also has some viewing tips.
Magic Eye Website
I learned the techniques for creating stereograms from a gentleman named Gary Priester. Gary uses a vector graphics program called Xara X, which is a very sophisticated piece of software. Unfortunately, I can't justify spending the money for Xara X, so I adopted his techniques to GIMP. Gary's tutorial can be found here:
XaraXone Stereogram Tutorial
Some of Gary's stereograms can be viewed here:
Gary's Featured Art
Special thanks to Gary for bringing the creation of stereograms to the rest of us!
This will be a multi-part tutorial, with this first installment covering very primitive stereograms. I will be using GIMP and
Stereogram Maker 2.1 for these lessons.
Download Stereogram Maker Here
There are certainly other, more sophisticated programs out there that can create these images, but this one is free! If it's free, it's for me!! If you use a different program, you'll have to follow the software's instructions for creating them.
EDIT (June 9, 2005. 8:54 AM): I have switched my stereogram program of choice to 3D Miracle, which can be downloaded here: 3D Miracle Website. The free version will only allow you to create 640X480 size stereograms. Which is good for most people. The registered version ($25 US) will let you create them in any size. 3D Miracle is a bit more user friendly with more adjustable parameters.

Since my tutorials were created with Stereogram Maker 2.1, I will still answer any questions that may arise regarding the use Stereogram Maker 2.1.
From here on out, I will be referring to Stereogram Maker as SM, to eliminate some typing.
SM is a Windows only product. Sorry Linux users, you'll have to find a stereogram for your operating system. However, creating the required Depth Map in GIMP will apply to you. So, you're not excluded entirely!
Stereograms essentially contain two images to create the 3D effect. The first image is the Depth Map or Range Image as referred to by SM. The second image is the texture or pattern image as referred to by SM.
Depth maps (Range Images) are made up of black, white, and gray colors. The computer software takes white and brings it to the front, black is sent to the back, and shades of gray fall in-between the two. As you can guess, the lighter shades of gray appear closer than darker shades of gray.
Textures or Pattern Images, can be any texture. However, it is recommended you use a texture that is very random, as the stereogram software will distort the texture to hide the depth map within it. SM, as well as most other stereogram programs, will also create textures for you. For this tutorial, I will be using this function for simplicity sake. You may, however, use any texture you wish.
Well, Now I'm finished with all the background information. Let's begin Installment 1!
[*]Open up a new GIMP document (any size, but I will be using 640X480) with a black background.
[*]Grab your text tool and choose a fat font and make its pixel size quite large.
[*]Add some
white
text. I'm typing in the word GIMP.
[*]Flatten the image and save it as a .jpg.
Here's what mine looks like...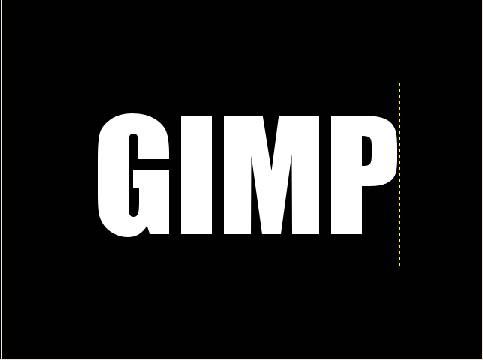 Congratulations you've just created your first depth map!
WHAT!? Say, it isn't so, Art!! It really can't be that easy. Well, for our first example, it is that easy.
Now, let's open up SM (or if you're using another program, open up you stereogram software)
[*]Click the "Open a file button"
[*]Select the Depth Map (or Range Image) we just created.
[*]Select the "Range Image" option from the dialog box
At this point you could go back up to the "Open a File" button and open up a texture image, but we'll let SM make one for us. Remember, if you use one of your own, make sure it has a lot of randomness to it. Also, if you use one of your own, you need to select this button on the dialog box...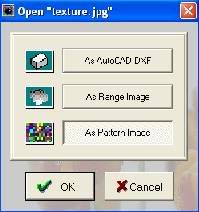 VERY IMPORTANT: If you brought in your own pattern, go now to step B, otherwise go to Step A, then to Step B
[*]
STEP A
- Click the "Create Random Coding Pattern" button....the 3rd button at the top left: You can select either texture color option, but I prefer the colored one.
[*]
STEP B
- Click the "Create Stereogram from Range Picture" button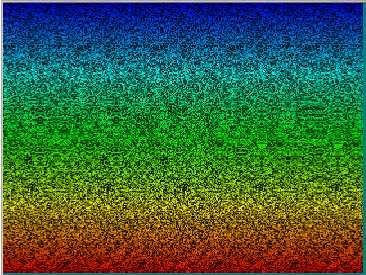 Congratulations! You are the proud owner and creator of your first stereogram!! Be amazed and impress your friends!
Before you exit SM, right-click the stereogram and save it.
Yeah, I know it's bland, but this is a work in progress.
Now, while I'm preparing the next installment, you experiment a bit. Make some circles, squares, text, whatever and experiment with different levels of gray. Make one object white. Add another object next to it and make it a little darker. Shoot, add a third object and make it even darker. Make sure your background is black. See what you can come up with.
I'll add more later. I'll be here all week. Make sure you tip your waitress.
Happy GIMPing.
Art