This tutorial will show you how to make a simple path animation by first making a path and then using GAP to move an object along that path:
Many animations are Path animations. In some of my previous tutorials, I showed you how to essentially create the animation path in the Move Path window. This time, we will be making the Path ahead of time using the Path tool. This approach can simplify the animation process and also simplify making more complex animations. We begin with a simple example.
From the main Gimp toolbox window open a new 400x300px image by selecting:
File | New
Use the settings shown in the above image then click on
OK.
From your newly created image window select:
File | Save As
Save this file as background_000001.xcf into the working directory of your choice.
It is usually a good idea to make a new separate folder/directory to place your work files into
. This is the format one must save a file as (some_file_name_000001.xcf) for working with GAP animations.
After saving the file, return to your image window. We will now add some guides to assist us in making our path. Place your cursor at the top of your image window on the top ruler. Keeping it there, left-click and hold your mouse button down while dragging a guide line down to the horizontal center of your image (which is half of 300 or 150).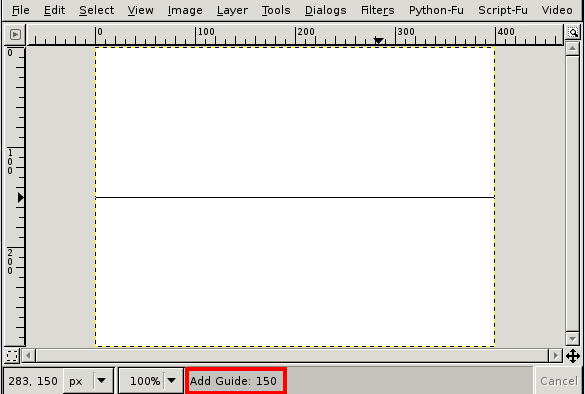 Above highlighted in red is the section of your image window to watch as you drag your guide line down. This indicator helps you to properly position your guide line. Drag it down until it states
Add Guide: 150
.
We will now
add two vertical guides
by left-click and holding down our mouse button while dragging guide lines from the ruler at the left side of the image window. Drag out a
vertical guide line to 50
and then go back and drag out a
second guide line to 350
(again use the guide at the bottom of your image window to tell you when your guide has reached the proper position). Your image will now look like this: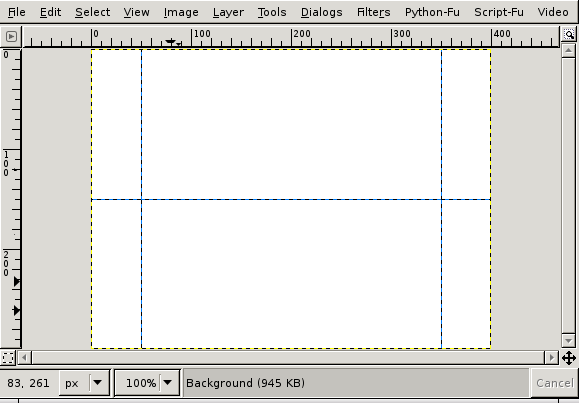 Now, from the main Gimp toolbox window select the
Paths tool
: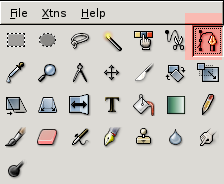 In the image window,
place the cursor arrow over the left most intersecting guides at point 50,200
(if you look at the guide in the lower left hand corner of your image window, it will tell you when you your cursor is over point 50,200) and click to add the first point (called an anchor) of the path: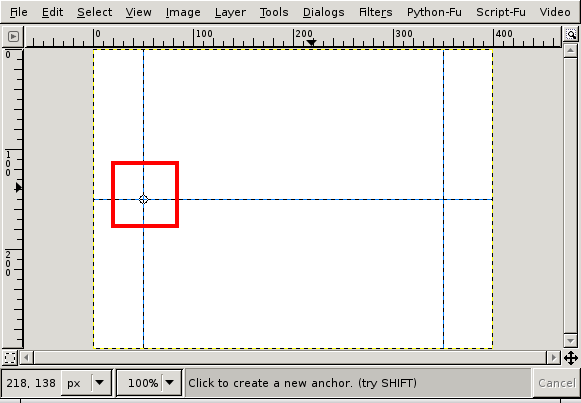 As shown in the above image, you will now see a little circle added at the leftmost intersecting guide lines. We have set the first point (anchor) of our path.
Now move the cursor arrow over to the other intersecting guides at the right of your image window at
point 350,200
(again rely on the indicator at the lower left of your image window to signal when your cursor is over that point) and click to
add a second anchor there
.
Finally to complete the path loop
, again place your cursor arrow over the guide lines intersecting at the left of your image (at point 50,200) , but this time
hold down the CTRL key while clicking on that point
:
While it may just seem to be a single line path, in fact it is a
closed path
consisting of a line connected from the left to right anchor, and then a line connected back from the right to the left anchor. This closed path allows us to create a looping animation where an object will be moved from the left side of our screen, to the right and then back again.
We will be making a
60 frame animation
. To begin the process, in your image window select:
Video | Duplicate Frames
In the window that opens,
From Frame and To Frame are left at 1
because we only have one frame so far which is background_000001.xcf. We need to give
N times a value of 59
because we have 1 frame and we need 59 more to make 60. After adjusting the settings,
click OK
. GAP will now create 59 duplicates of our background_000001.xcf image and save them in sequentially numbered fashion in our working directory/folder.
From the main Gimp toolbox window, select:
File | New
This time
set the Width and Height values to 50
: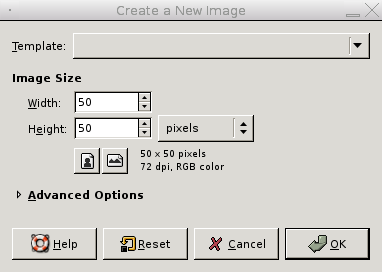 Click OK
. Using the
Bucket Fill
tool, or by dragging the Foreground color from the color squares in the main Gimp toolbox window to the 50x50 image window, fill the new image with a color. I have chosen
blue 0000ff
for those who wish to follow along with the tutorial:

Next
return to the background_000001.xcf image
and select:
Video | Move Path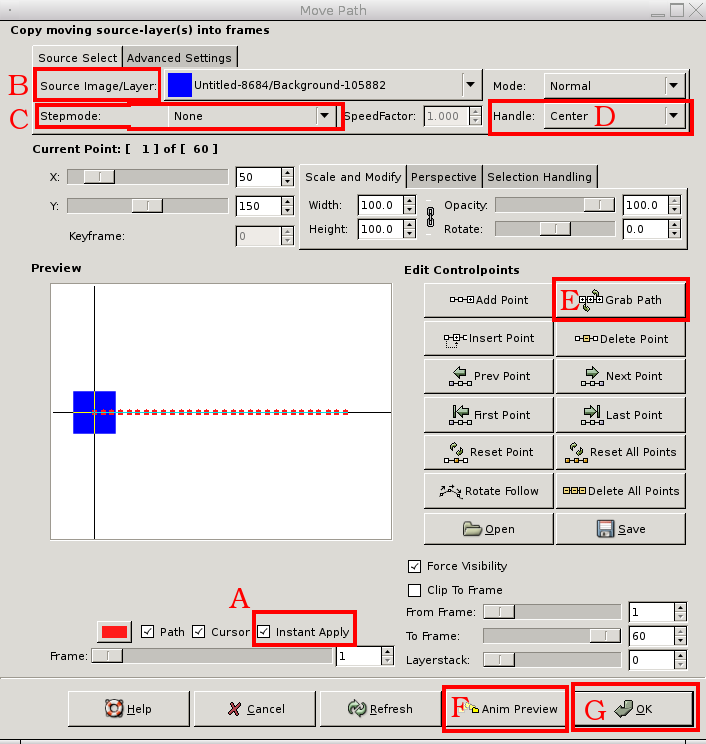 In the Move Path window click on
Instant Apply
as highlighted above
(letter A)
so you can see what is happening in the preview area. Your
Source Image/Layer (B)
will be the blue square image that you made if you are following along with this tutorial. If it is not selected, click on the drop down box and select it from whatever choices you may have available to you. (
If you only have background_000001.xcf and the blue square image open, that will be your only choice.
) For
Step Mode ©
click on the drop down box and select
None
. Choose
Center
from the drop down box for
Handle (D)
.
Hold down your Shift key while clicking on the Grab Path button (E)
. This will grab the closed path that we made earlier, convert it to an animation path for our blue square image object to travel along, and create a point (keyframe) at regularly spaced intervals on the path for every frame of the animation. This is nice, since in previous tutorials, we had to create our own points (keyframes) using the Add Point button, but we bypass all of that using Paths that are made ahead of time. (
Note: if you hover over the various buttons in the Move Path window with your mouse cursor, a small explanation of available options will show for some such as the Grab Path button.
)
Our animation is now set up. It is always a good idea to preview the animation before clicking OK in the Move Path window. The reason for this is, what if we did not set everything properly? The preview would show this and allow us to go back and make any needed changes before finalizing this step. (
Things done with Move Path are not easily undone, this is why it is important to preview your animation before clicking OK)
Click on the
Anim Preview button (F)
. There will be a window that opens, select
Exact Object on Frames
and then accept the other default values and click
OK
: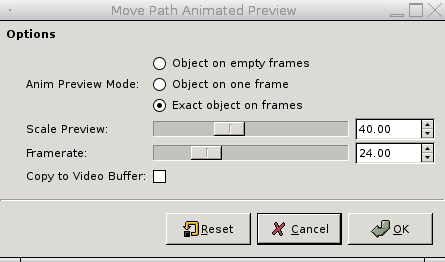 After some processing, a small preview window will be created. Play the animation to make sure it runs properly (it may not run smoothly, but we will set the frame rate later). Then when you are satisfied, close the little animation preview and also close out the little image window that gets created along with the preview and select Don't Save from the window that opens.
If your animation plays properly (the blue square should move from left to right and then back again) then click OK (G) in the Move Path window. GAP will now add the square image as a new layer into each frame.
What GAP has done is to add the blue square image to the appropriate position in each frame of the background image frames so that when the sequence of images is played, it appears to be moving. Before creating our animated GIF image, we must convert the Frames to a single multilayered image (since a GIF animation is a multilayered image).
From the background_000001.xc
f image window select:
Video | Frames to Image
Change the default frame delay value from 41ms to 16ms (to make the animation smooth for this situation) (
do not leave a space between the number and the ms; you want 16ms not 16 ms)
in the
Layer Basename
section and
click OK
.
This will create a new 60 layer image
. Each layer is one frame of the animation.
From the new multilayered image window that is created select:
Filters | Animation | Optimize (for Gif)
This will result in yet another new multilayered image being created.
We run the Optimize function to try to minimize our final animation file size
. From the image window created by the Optimize function select:
File | Save As
Save your file as path_anim.gif in your working folder/directory.
The
Export window
pops up. Select
Save As Animation
in that window: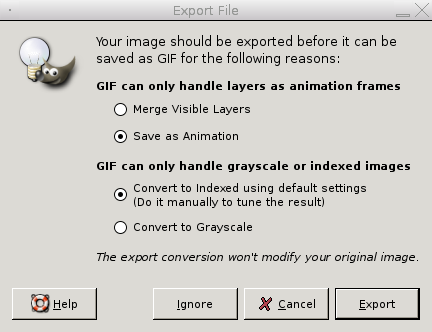 Then click the Export button.
Another window will open. Accept the defaults in that window and click OK. Your animated GIF image has been saved. Try opening it in your browser of choice and watch it play.
Closing Notes
On a final note, you can see that the square moves back and forth at a fast speed. I selected a fast frame rate to keep the animation reasonably smooth looking for sixty frames. As an exercise, you might want to do the tutorial again, but using 180 frames instead of 60. This will slow down the objects motion (since it has to travel the same distance, but over more frames), but will keep the animation fairly smooth. Also, we could reduce our file size even further by starting out with the background_000001.xcf image only being 150px in height instead of the 300 that was used. Or one could use the crop tool properly applied to the final optimized image window before saving it as a Gif animation file.
Additionally, we used a simple linear path for our animation, but you can attempt to create different types of closed paths to experiment with. Maybe a triangular path, or a path with curves in it. Feel free to experiment. Try using a path that is not a closed loop and see how that affects your animation. Try animating different objects. Maybe an image scaled down to an appropriate size as an example, or some text. In the tutorial above, try experimenting with pressing the Rotate Follow button once you have completed the Grab Path portion of the tutorial. That will have it's own effects on the animation. The possibilities are endless.
Once you have completed your animation, it is a good idea to delete the xcf files or others from your working folder to avoid filling up your hard drive.
Finally, here is the animation we created, but using 180 frames (still with a 16ms frame delay):