Here's a tutorial showing how to take a photograph and selectively remove colors, leaving those areas that will provide greatest impact. I first learned this technique using masks, which work very well; however, this technique works in a similar fashion, just a little bit differently. As I said in my lightning tutorial,
Let's think outside the box!
.
Here is a picture of a beautiful moth we observed at our office building.
You can download this picture and use it for the tutorial if you would like, or use your own!
Duplicate the image and convert the
Background Layer
to grayscale by selecting Layer | Colors | Desaturate. Rename the layers if you want, but we'll only be using these two.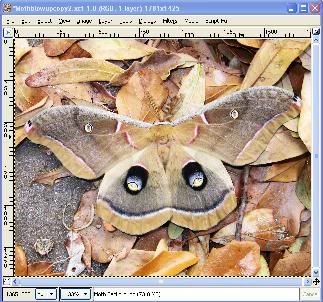 Now make the
Upper Layer
active and set its Layer Mode to
Color
like so: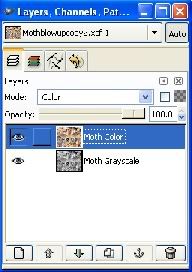 Here's the fun part! Grab a brush (I used a very large brush because I've got a lot of "uncoloring" to do) and start painting. Everywhere you brush, your color image will become uncolored. Keep brushing away those areas you want to "remove". For the highly detailed areas, pick a small, fuzzy brush and zoom in really close.
That's all there is to it. Now can it get any easier? :w: How'd you do?
Here's my final product.
Keep on GIMPing!!
:l: