Well, here's my second tutorial. I began doing some experimenting with some of the different settings to see what would happen when creating lightning. I thought I'd share them with others before I forgot how to do it :w:
Hope it helps someone out. Please post your creations or any questions/comments you might have.
Art
Keywords: Gimp, Lightning, Clouds, Difference, Blend Mode, Overlay
1. Open a new layer. For these examples, I'm using a layer size of 150 x 150 pixels.
2. Reset your colors to: foreground: black ; background: white.
3. Using the linear gradient tool, drag a gradient from the to left corner to the bottom right corner.
4. Duplicate background layer and set its mode to "Difference"
Your picture will now turn black, but that's normal.
5. Select Filters | Render | Clouds | Solid Noise...
For this lesson, I've selected the following parameters: Detail: 1; X: 2; Y:2 (no other options checked)
Feel free to play around with these settings.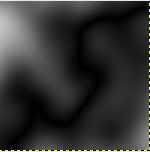 6. Merge the two layers together by selecting Layer | Merge Down.
7. Now choose Layer | Colors | Invert.
8. Let's eliminate most of the white by going to Layer | Colors | Levels and adjusting the settings as shown below.
9. Let's give it a beuatiful blue color.
Go to Layer | Colors | Colorize and make Hue: 200; Saturation: 75. I left Lightness as the default.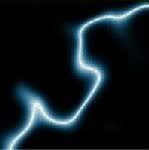 Very nice and looking good!
Now that we've created "typical" lightning, we need to approach things from a different angle. As you go through the next few exercises, you may ask yourself, "How can I ever use this?" I can't answer that for you. I'm addressing the how, it's up to you to decide the where, when, and why!
Remember, I won't re-explain the steps used previously, just refer to the corresponding numbers above.
1. Open a new layer.
2. Reset your colors.
3. This time use the spiral (ccw or cw) gradient tool to drag
a conical gradient. The smaller the line you drag, the more
spirals you'll get.
4. Duplicate background layer and set its mode to "Difference"
5. Repeat Steps 5-8 above.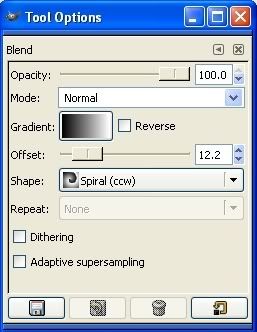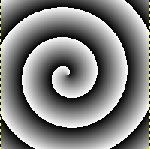 9. To color this one, set the Gradient Blend Mode to Soft Light. I chose the pastel rainbow gradient and kept the shape used above. Try playing around with the Shape and Mode settings to see what you can come up with. Here's another tip: after you color it once, change the Mode and Shape to different settings. This will keep the color you previously made, plus overlay a new one!
Pretty neat!
Here's my last example. Again:
1. Open a new layer.
2. Reset your colors.
3. Use the conical (asym) gradient tool to drag a conical
gradient.
4. Repeat steps 4-8 above.
9. Try colorizing it using whatever technique you'd like.
This gives us a lightning bolt from a specific location point. Try using the conical (sym), it will give 2 bolts from a specific location.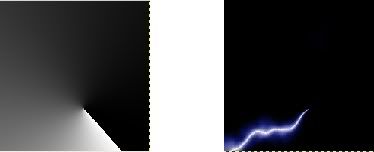 How about a Mother's Day Heart made using an undescribed, but similar technique?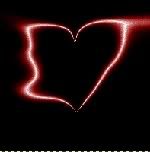 Happy Mother's Day, Mom! I Love You!
Can you guess how I did it?
I know this was long, but I certainly hope it was as helpful for you as it was for me. Questions and comments always welcome!
Have Fun and Keep on GIMPing!
Art