Hi, to all fellow GIMPTalk members. My name's Art and I've been using GIMP for about 3 months. I've found it to meet most of my needs and have had an absolute blast learning to use it.
Well, here's my first tutorial on blending images. Hope you like it. Sorry if it's too easy of a topic, but for what I want to create, it's essential!
Look forward to getting to know and learn from everyone.
Cheers.
Art
Keywords: Gimp, Blending, Feather, Images, Lasso, Selection
This is my first tutorial and, as a Newbie, I consider learning this step to be fundamental in helping me design message board signatures and wallpapers.
I know that blending of images can also be accomplished in numerous ways, but this tutorial will focus on the lasso tool and feathering. Hope this helps out other Newbies like myself. I apologize if it's too easy for most users.
I would like to say that the images and techniques were found on a Photoshop tutorial website. I had to modify their instructions slightly to work in the GIMP.
Let's begin!!
Open up your background image in Gimp.
Add a new layer (via cut/paste, rag/drop, etc.) of the layer you want to blend into the background.
With your lasso tool, enclose an area that you want to have blended. As you can see, the selected area doesn't have to be perfectly round. Now go to Select | Feather and enter a value. I used 25 for mine, but you can experiment. The higher the number, the smoother your selection will be.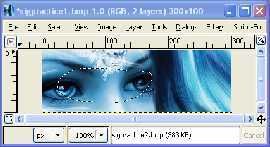 Here's where the FUN begins. Now, Invert your selection (Ctrl-i) or go to Select Menu > Invert.
Click the Delete Key for GIMP 2.4 users & Ctrl-K (Clear) for users of GIMP 2.2 and below.
Your image will look like mine. If you continue to hit Ctrl-K, the edge of the selected area will continue to blend in.
Deselect your image and set the upper layer's blending mode to value and it looks like the images were meant to be together!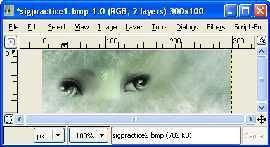 Cool, isn't it?!
Again, I hope this helped someone out. Comments are certainly welcome!
Art