Note
: This tutorial attempts to help you start using GIMP Animation Package (GAP). What you are about to do can be done manually without GAP. This is just a tutorial designed to help you learn to do some basic things with GAP. Where GAP has a nice advantage is when you are working with animations with a lot of frames, or developing videos. Doing those sorts of things manually is time consuming. GAP helps you greatly reduce your time and effort on those types of projects. But it is best to begin learning simple things before jumping in to do a video or larger animation. :h:
Now on to the tutorial ------->
This is a very simple beginners tutorial to get you started using GAP (GIMP Animation Package). It is not a beginners GIMP tutorial. Some familiarity with GIMP is necessary and recommended.
Here is what you will be learning to do on GAP:
A very simple animation to make , just moving a square from one side of the image to the other.
First
begin with a new image 400x300
with the default White background color.
Add a New Layer
with default settings
Select the Rectangle Selection Tool and set it to Fixed Size and use a Width of 150 px and a Height of 100 px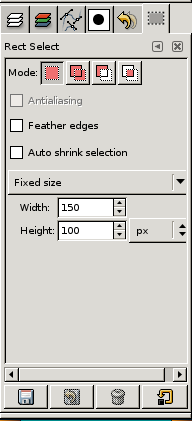 Select the New Layer and
make a selection
somewhere inside the image window.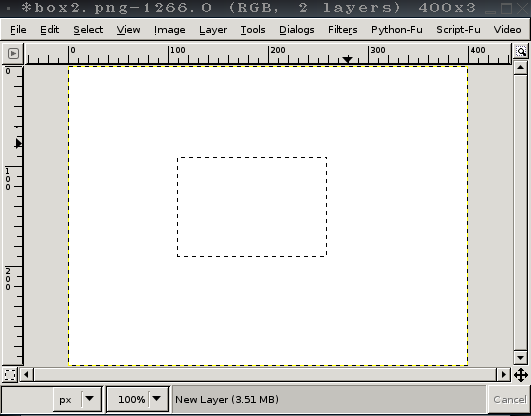 Now
fill the selection
with either the bucket tool or by dragging the Foreground Color into the selection. If you want to follow the tutorial exactly use color d92828.

With the
New Layer still selected and the rectangular selection still active
, do
Layer | Crop Layer
Select | None
Edit | Cut

Layer | New Layer
Edit | Paste

Layer | Anchor Layer
What we just did here is take the layer, crop it, and then by cutting it and then pasting it back into a new layer we got it centered in the image. We could have used guide lines to make the original selection centered too. If you prefer that, please do. (Having objects centered makes it much easier when placing the object later on)

Rename that Layer to Box1
.

Open a New Image Window in GIMP also 400x300 and also with a White Background.
Save this image into a working folder and name it
background_000001.xcf
Now in Image (background_000001.xcf) window do

Video | Duplicate Frames
In the window, make
N times 19
then click OK.
This will give us 20 frames for our animation. (Remember, we saved the file as background_000001.xcf, so we already have one , we need 19 more copies of this to make a total of 20 frames) :h:
Note:
There is nothing magic about the number of frames I am using. I could have decided to use a total of 5 or 500. It all depends on what you are trying to accomplish. More frames does give smoother motion results, but also increases final file size. So it depends on what you are trying to accomplish.
Then do

Video | Move Path
The Move Path tool is the workhorse of GAP
.
I have highlighted the sections for you to set. First check the
Instant Apply (A)
checkbox. This allows you to see what you are doing in the preview window/canvas. Next, make sure that in
Source Image/Layer (B)
that the red box that you filled in is selected. If not, click on the drop down box and choose the red box Layer that you named Box1.
Note:
In the Move Path window, notice my
Source Image/Layer
is named
box2.png-1266/Box1-11004
. The part before the
forward slash
(/) is the
Image name
. I arbitrarily named my image box2.png so I could use various images for this tutorial. Your Image portion will likely be named differently. What you are looking for is the
Layer
section after the foward slash (/). Notice in the above image, it is named Box1-11004.
Box1 is the Layer name
and 11004 is a
unique ID number
that Gimp applies to keep track of which Layer (or Image) is which. Your unique ID number may not be 11004, so the number is not important, just the Layer portion of the name. This applies to all other Move Path window images shown throughout this tutorial. What you are always looking for is that the Layer section is correct.
Next set
Step Mode ©
to None. Just click the drop down box and to make your selection.
Handle (D)
select Center from the drop down box. Then for the
X and Y values (E)
, place them as X: -75 (that is minus 75) and Y: 150. For an extra twist, place the image at X:200 Y: 150. This places the red box at the center of the image. Then you can click on the little down arrow in the X slider window and as you watch, your rectangle move towards the left side of the screen and then eventually off the screen. Stop when you get to a value of -75 for X.
(
For the curious, a little explanation here for using the value of minus 75 for X .
The box is a width of 150. We are using a centered handle, and since our original layer was centered as above, that means that our handle will be at 75 px for the box since half of 150 is 75. So when the X value is at zero, meaning the Center handle point is at zero, there is still 75 px from the box sticking out beyond that. So to get the object completely off screen, we need to move it another 75 px which results in a value of -75 for X. :h: )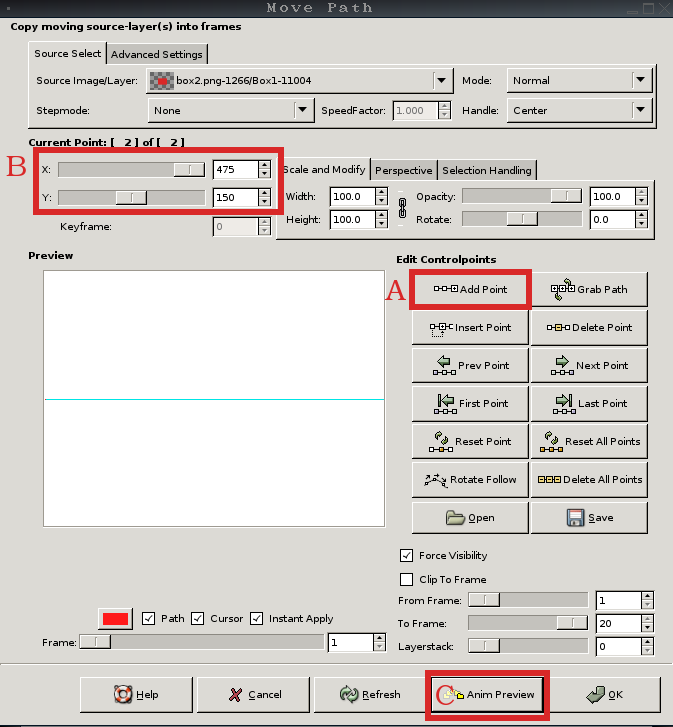 Next in the above image, click on the
Add Point button (A)
. When you start the Move Path window, GAP automatically starts you at the first point. The first point of your animation. We are now going to move the box to it's final point, so we need to add a point. (in many animations you likely will add several points for your animation. The points are basically keyframes for those familiar with that term for animation.) After clicking the Add Point button, change your
X (B) value
to X: 475 or click the little up arrow and watch as your box moves across the screen to the right and eventually out of sight again until you reach a value of 475 for X.
Then click the
Anim Preview button ©
. Another window opens, select
Exact Object on Frames
and click
OK
. This will create a preview of your box moving across the screen. Watch the preview then close it out and close out the little image window created and click Don't Save. Return to the Move Path window and click OK.
Once the Move Path tool has done it's work, click:
Video| Frame To Image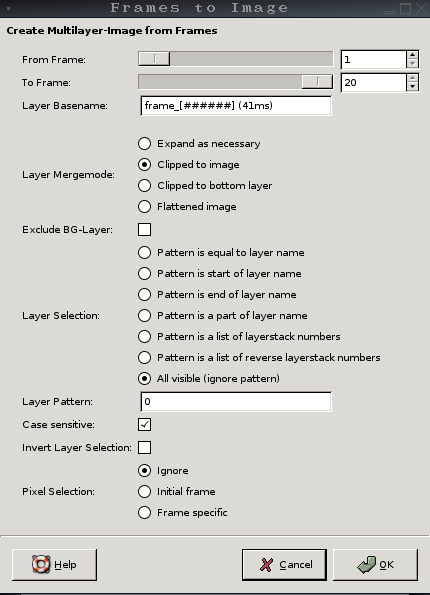 Just
click OK
, accepting all of the defaults for now. This will create a multilayered image. Then do:
Filters | Animation | Optimize (for GIF)
In the new image that gets created from that process click
File| Save
and save as moving_box.gif
Another window will open up:
Select
Save As Animation
as shown above, then click OK. Another window will open, just accept the defaults and click OK. This will make your animation.
Please continue on down to Part 2 now if you are interested in learning and doing more.