Page 1 of 1
You cannot start a new topic

You cannot reply to this topic
How to extract frames from .mpg short movie ?
Posted 20 August 2006 - 12:34 AM
HOW TO DO IT? :o:

---
Posted 20 August 2006 - 12:48 AM
Do you mean the extraction of all frames, or just a frame here and there?
If you only need a couple of frames, then I think most playback programs should have some sort of 'Snapshot' capability that you can trigger at opportune moments. If they don't, then I'm very disappointed in them and they should go to their room.
Imagemagick
is also a really awesome program for doing these sorts of things. Supposedly the command is...
convert sample.mpeg[N] frame.jpg
...to extract frame number N from an mpeg file.
---
Posted 20 August 2006 - 01:31 AM
I mean the extration of all frames ,or , at least of a lot of frames... i suppose image magick could be a good solution

---
Posted 20 August 2006 - 02:14 AM
Try Xtns > Split Video into Frames > Extract Videorange

---
Posted 20 August 2006 - 02:55 AM
Ah...GAP, should've thought of that.
Anyway, I got off on a tangent and started playing with
ffmpeg
, which is a very nifty program to process and convert video and audio streams. I searched all over the net but noone gave me a decent idea of how to extract all the frames, so I came up with a dodgy command that goes something like this in bash...
Quote
ffmpeg -itsoffset -0 -i inputfile.mpg -vcodec png -vframes 1 -an -f rawvideo -s 640x480 outputfile.png

...where itsoffset is the starting point in seconds into the video (negative offset is actually forward into the video, ie: -4 is 00:00:04 into the video). So, running the command over and over making the offset progressively larger will spit out a whole group of frames into the directory where you run it. Excuse me while I go off and learn some basic bash scripting so I can automate this.
I know noone is interested in this but me, but whatever...
---
Posted 20 August 2006 - 05:16 AM
no way im ontreated in this and i know nothing about what you just said or the codeing
there if pm me if dont mind giving me an idea of how to do this since i know nothing
about converting all that but i would love to learn .

---
Posted 20 August 2006 - 09:03 AM
Coicidentally, I was figuring out how to do this. I'm going to make a tut and put in in the 'User Submitted Tuts' sec.

It's there now.

N-coming
---
Posted 20 August 2006 - 02:01 PM
Quote
Try Xtns > Split Video into Frames > Extract Videorange
I can't understund where the output go, i mean how to set a destination folder for the output.
I choose" everything on a multilayered image" but for some reason i ended with a single
flat
image
i can't figure out where are all the other frames could you give me some more tips?
EDIT it seem here
http://www.gimptalk....-Gap.html#58685
there are all the answer to my questions ,i'm going to try again
well i don't want convert in gif but in layers but basics must be the same
---
Posted 14 July 2008 - 03:11 PM
I for extract frames from video use
Watermark Master
for me - the best soft! :-)
1. Add video files
2. Press F4 - select image output format, for example JPEG
3. Click on Grabber icon (left toolbar)
4. Select "Grab frames at reqular time interval"
5. Set time interval = 1 frm.
and click OK and run via press F5. All
---
Posted 15 July 2008 - 05:51 PM
hy welcome and thank for the info
I already solved and without need to buy commercial sw ,(message was of years ago now i don't remember exactly how i solved maybe with virtual dub that is free )

---
Posted 31 July 2009 - 03:50 PM
I think, that can use FFMPEG for get frames from video.
But I for it use
VideoCharge Studio
.
It is tools no free, but have lot of function useful for me, for example:
1. You can work with any video files, and it is impotant :-)
2. You can work with some files (batch mode) and via command line
3. You can resize, crop, watermark, correct colors for created images.
4. You can select best frame from footage.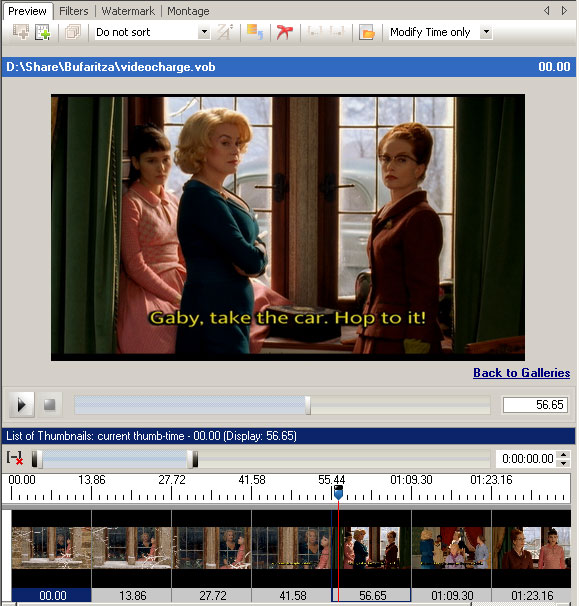 5. You can use Wizard for start!
---
Posted 24 August 2010 - 06:22 AM
Thanks!

Very good instruction. I download VideoCharge Studio and very happy! :-)
Very good batch mode..

---
Share this topic:
Page 1 of 1
You cannot start a new topic

You cannot reply to this topic
---