Rating:
Beginner-Intermediate?
First up make a new image, I will use size 400x100. Go to Filters>Render>Clouds>Plasma. Check the box that says "randomize" and click okay. Then go to Layer>Colors>Desaturate
Next up go to Filters>Blur>Pixelize. Set the settings to 20x20.
Duplicate that layer and do Filters>Edge-Detect>Neon with these settings.
Set that layer to overlay and duplicate it and you should get this:
As you notice there are really dark spots. Make a new transparent layer and brush over these with a white soft brush.

Set that layer to soft light. Repeat as many times as need be.

You need to be careful on this part. Brush in a soft black brush with low opacity on one of the edge-detected layers. Only do this on the REALLY bright areas that are mostly white. Make sure to only do this on one layer, if you do it on both it will leave that area looking flat.
Now for the coloring. Fill a new layer with a solid color. Set to overlay at 70% opacity.
This part is important. Go to Edit> Copy visable. Paste this as a new layer. Go to Filters>Glass Effects> Glass tile and put all the settings to the max.
Set this to overlay at 70% opacity.
Add any finishing touches and you're done!
This is what my layer tab looked like when I was done: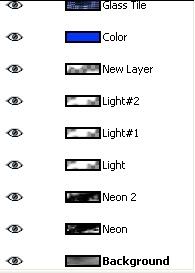 Note:
If you want an extra touch you can sharpen the edge detected layers.
Note:
Looks better with warmer colors.
Did it with notes taken into account and got the below.