This is my first full tutorial so feedback's welcome, as always.
I came across this while mucking around with the scott effect.
Here's is what I got on this tutorial:
Make a new image what ever size you want. I'm using 420x300.
Fill it with plasma (filters->render->clouds->plasma) set turbulence to 2.5.
Layer->colours->desaturate
First duplicate this layer, then turn off the visibility this is very important, so make sure you do it, you'll see why later. Now make a new layer and fill it with the 'Walnut' pattern. Set the layer mode to colour.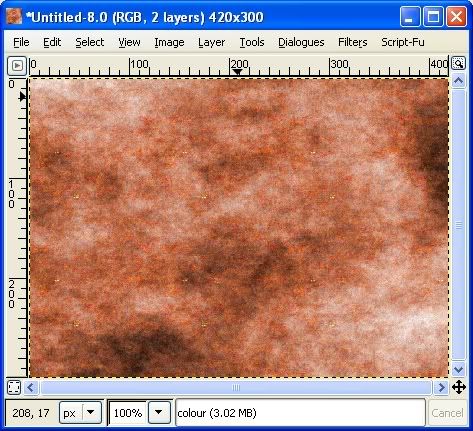 Duplicate the walnut layer and set the mode to overlay.
Now to fix up those annoying noise spots. Make a new Layer. Take the clone tool and set it to pattern fill using the walnut pattern, non-aligned. Now just brush over the spots.
Set the new layer to hue and voula - they're gone.
Now merge visible layers. This is why we duplicated that layer at the start. :w: With the coloured layer still active run Filters->Map->Bumpmap with these settings:
You're done!
Some nice effects can be achieved by playing around a bit. I got this one by putting the bumpmap layer under the magma layer and setting the magma layer to burn. Another good one is an ice effect, by putting a black layer under the magma and setting the magma to grain extract. Play around and show us what you get. :w: