over 30 steps and special thanks to sean michael for the install brushes tut
my name on mmost other gfx sites is flare
this tut has almost every step shown fully!
i hope it helps any new guys!
1. ok start by making a new image
go to file>new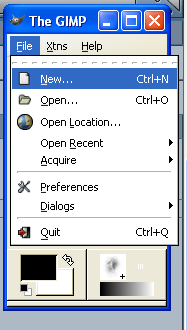 2. make the size 398 pixels wide and 128 pixels high
3. now we need to add a render
good render sites are gamerenders.com and planetrenders.net
i am going to use one from gamerenders but i dont have the link from there so here it is
http://i25.photobucket.com/albums/c74/h ... 8d597e.png
4. save the render in ur my pictures folder or anywhere thats easily accesible
to save right click on the pick and choose save picture as
5. to put a render into a sig go to ur new window and choose file>open as layer and find the pic in the foler u just saved it in
ok now u should have this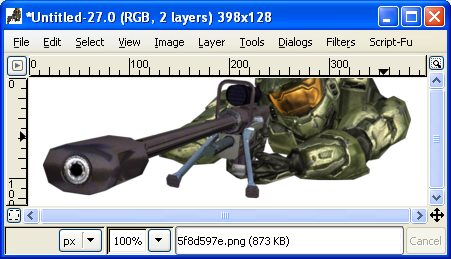 6. now u need to go back to ur background layer
to do this go to dialogs>layers
7. then click the background layer
8. now we need to start brushing
i would recommend using the sentinel grunge brushes
u can download them from
http://www.deviantar...ation/31363835/
9. to download brushes, use this tut
http://www.gimptalk.com/forum/topic/How ... 315-1.html
thanks to sean michael
10. now click the brush tool
11. then u need to choose the sentinel brushes
to change ur brush choose this box
12. then scroll down until u find sentinel brushes
then click one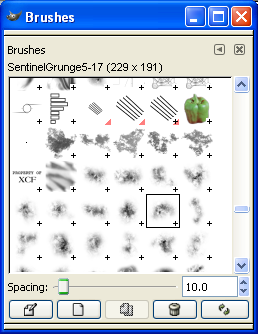 13. now u need to go back to the screen that ur making ur sig on and start brushing
use different sentinel brushes dont just use 1
brush alot!
you should have this now
14. now comes the pixel stretch part of the tut!
ok go back to ur dialogs box which is step 6
this time, choose the render layer
15, then go back to the main gimp screen and click on the square
16. now go to ur sig screen
drag ur mouse to u have about 1 or 2 pixel width and the length of the render
(it doesnt have 2 be exact we will change this later)
17. now copy this little box
right click on the box>edit>copy
18. now press control and z at same time
this will get rid of the box
19. now right click>edit>paste
20. now go to layer>new layer
ur sig should now look somewhat like this
21. now go to layer>scale layer
22. a new screen should pop up
u need to unlock the scale so click on the chain...it should break the chain like this
23. now u need to change the layer size
make the width 400 and the height 130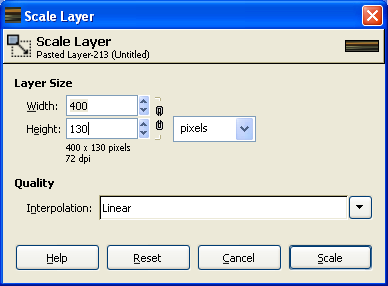 ur sig should now look like this
24. now we need to lower the strech layer underneath the render layer
so we go back to the layers dialogue screen and drag the pixel layer under the render layer like so
25. now we need to change the mode of the pixel layer and the opacity
set the mode to hardlight and the opacity to 80-100 i chose 80 but then later changed it to 95
like so
ur sig should now look like this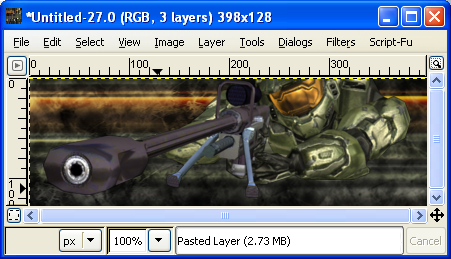 thats the pixel stretch!
26. then we need text
text is a hard thing to learn but i like to keep it simple
in the main gimp screen click the text button twice
27. another screen should pop up
i like text to be simple so i chose arial
28. i made the color black if it is not already
also make sure hinting, force auto-hinter, and anitialising are all checked
make text size 20
29.
now click on the sig screen and click again in an area where u think text would look good
then type ur name or some sort of text
i wrote my name that i use at most gfx sites
30. if u want to move it around use this tool on the gimp main screen and then click on the text and drag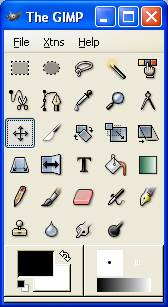 31. now for a border the last step!
go to script-fu>decor>add border
32. then make x and y 1 and color black
your done!
my outcome