So with this tutorial we will be covering the basics of layer masks. Layer masks are very useful when making tags, large art, or photo editing at all. They allow you to change the opacity at which parts of a certain layer are shown, not just the whole thing. Through this, I will cover how to effectively use a layer mask, and some of the bugs and pop ups you might need to be aware of when you use one


Layer masks can be created by going to the layer, paths, and patterns bar>right click the layer>Layer mask: You can view the layer mask by itself by going to layer, paths, and patterns bar>right click the layer>Show Layer Mask



Once clicked you will find a plethora of options, but the easiest and least confusing option is white, (meaning that all white in the layer mask is at 100% opacity):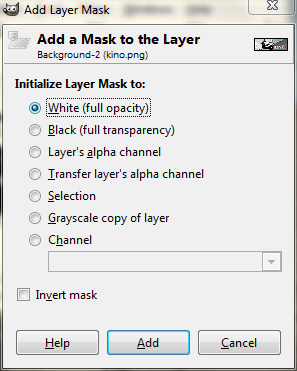 Click Add
On the layers/ paths and patterns bar you should see this on the layer you selected to have the layer mask:



You can toggle between painting on you layer mask by clicking either the layer mask or the original layer to its right, depending on which one you need to adjust. The Image that is outlined in white is the selected item.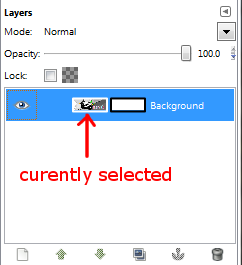 |


There is also a collation between the selected layer and the name at the bottom of the cavanas



Thus now the fun begins. Select the layer mask, then click on a grey-scale (black works best on the first try to really see the results). Now take the brush and paint on your selected layer mask and observe what happens. Note: I used the pine pattern under this .png so you can see the effect.




You can also add white to the image by taking a white brush into the layer mask (and remember the option we clicked up top said white was full opacity) NOTE: you can also select a layer mask then use the move tool to move it
, like any other layer (how neat!)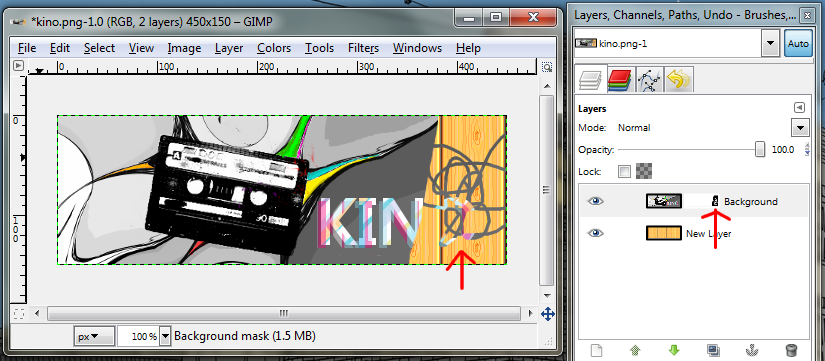 Once you grasp that concept you can begin to full around with the air brush, or different shades of black and grey and get effects, which can really help with selective lighting or certain effects: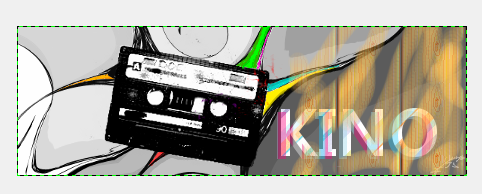 On to errors, this error that you are about to see will only arise after you have used part of the layer mask, say brushing some grey of black on it, if the layer mask is still completely unedited at white 100% opacity you will not get this error when trying to paste something on top of it. If you try to paste a new layer over a layer that is a layer mask and has been marked, you will get this error.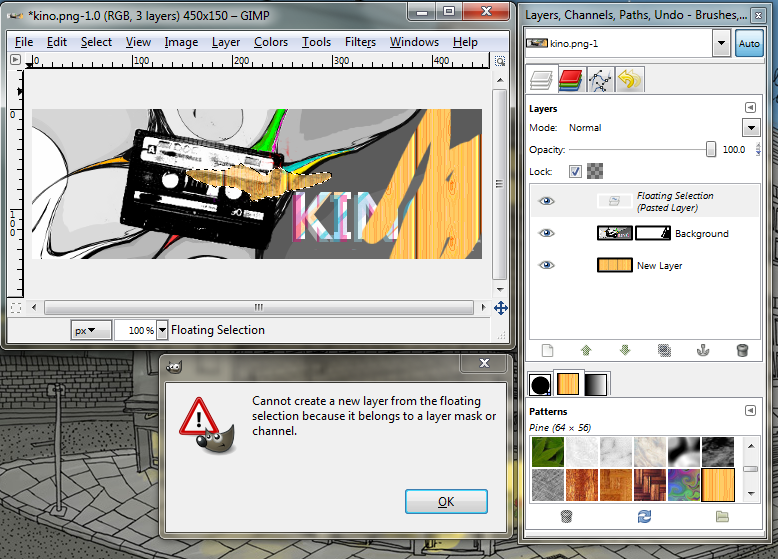 This can simply be solved by creating a transparent layer above the layer mask, then paste your image, then delete the transparent empty layer.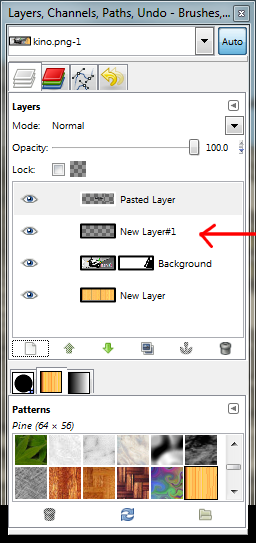 Also when trying to save as a .png you will get a similar error, but just click OK, the image wont be harmed in any way, but just like your layers, the next time you open up that png you wont see the layer mask. This is why you save as an .xcf so you can go back and edit things like your layer mask or other layers within the sig. The effect in front of his face is what i layer masked away, I left a little to show you that it will save the image and the layer mask effect in front of his face.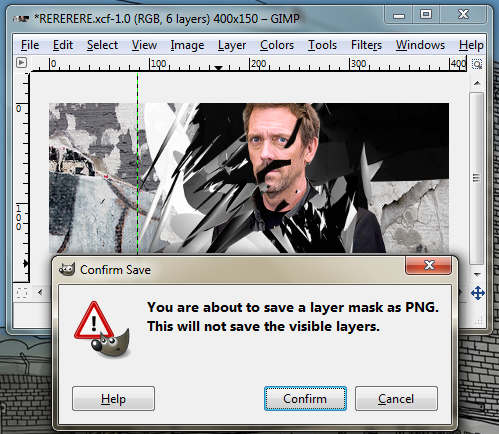 Final:



But just like i said the error is a false threat and the sig turns out fine, but remember to always save as an .xcf just in case.
Happy Gimping