PLEASE READ MY LAST POST IN THIS THREAD!
Voting will be until sometime late Sunday night or early Monday morning(Voting will end when I post the new SOTW thread and the thread title says [CLOSED]).
Everyone gets one vote each, you cannot vote for yourself, and you must give two reason why you voted for the entry you voted for.
The winner will be placed in the
winners thread
(Thank you Wolverine) and be given a badge that looks something like this(Thank you again Wolverine :D ).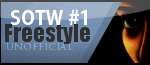 Now the entries!
1:
2:
3:
4:

5:
6:
7:
I also need suggestions for SOTW themes(and any ideas for SOTW you have in general)! Please post them in the winners thread! It will help a lot!