Creating brushes in GIMP is a very straightforward process. From what I understand, there are essentially 2 main categories of brushes in GIMP (regular & animated (a.k.a. a pipe)) and, each category can have a grayscale or RGB version. So, we can have a total of 4 brush types (2 regular/2 animated) and they are saved in the following two formats gbr for the regular brushes and gih for the animated brushes.

BTW, animated (or pipe) brushes are brushes that contain several layers. It works like an animation in the sense that, with every click, a different layer is used to brush! You can also tell GIMP what order the individual brush layers should appear or if they can show up randomly! So, if you have a favorite set of brushes, you can literally combine them into one brush and go to town, without having to switch back and forth.

With grayscale brushes, you can, if you so choose, paint with any color just by changing the foreground color in the color pallet. It can be any color, not just black or white. With RGB brushes, the brush will only be the color of that contained in the brush. You can make a brush of an apple, for example, and every color contained in the apple, will be maintained while brushing.

You can make a brush out of just about anything: images, other brushes, text, etc.

Today, we're going to use Clouds to make a grayscale gbr brush. So, what this should tell you is that the brush color will use the selected foreground color and the brush is not animated. It contains one layer. We'll discuss the other types later.

NOTE: You can use whatever you want to create your brushes, but for the purposes of this tutorial, I'm using clouds

Let's begin:

For this example, I'll be making my project much larger than I need so I have extra room to work.

[*]Open up a new project. I'm using a 400 X 400 RGB, background does not matter.(even though this brush will end up as grayscale, I started with an RGB and converted it later. You just have to remember to do it later.)
[*]Add clouds to your image (Filters | Render | Clouds | Solid Noise....) Use whatever settings you want. It's your brush :l:

I've scaled down all my images for the purpose of this tutorial.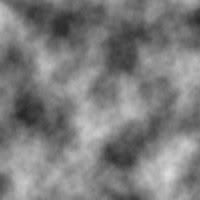 [*]Now use your favorite selection tool to select the area you want to make a brush out of. I used the lasso tool for this next example. If you use the rectangle tool to do the selection, I recommend that you feather the area quite a bit (Select | Feather), invert the selection (Ctrl-I), and delete the rectangle edge. If you don't you might end up with a brush that has a very rectangled appearance and it might have a hard edge. As a matter of fact, I recommend you feather your brush anyway, but it really depends upon what you're after. A "blood brush" might not have the proper effect if it's feathered.

Here's my image:




[*]Then, I copied/pasted the selection into its own layer. That way if you don't like it, you still have your original image to go back to. Here, you can further edit the brush (feather, lowering opacity, etc.)

Now, we're almost finished! I didn't want my final brush to be 400X400. So, when I got the brush looking the way I wanted, I cropped the layer. There are a number of ways to do this, so I'll let you decide how to save your brush to the desired size.

[*]Next, I flattened my image. We can't have layers in a gbr brush. If your background layer is any other color than white, you need to make it white.
[*]This step is for those of us who started with an RGB image. Convert the image to grayscale (Image | Mode | Grayscale)

[*]If you think you'll want to work on this again later, I suggest you save the file now in .xcf or all your layers will be lost. This is optional.
[*]Now, save your brush. File | Save as | ****.gbr (substitute your chosen name for the *'s). I recommend you save them in the GIMP brushes folder so they'll be immediately available.
[*]A second window will now pop up asking for another name. I think the first name you gave it in the step above is the name it's assigned in the folder. The name in this window is what you'll see within GIMP. I generally name them both the same thing.
[*]Set the spacing width as desired. This is how far apart the brush will appear should you click and drag the brush. You can always modify this from the brushes toolbar later.

Here's my brush: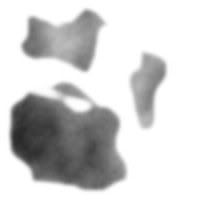 Here's a second brush I created from the same clouds layer, but I used a rectangle selection that I've feathered to avoid a hard edge.




To use the brushes: Click the refresh button within the GIMP brushes toolbar and they'll immediately appear.

I hope this was enlightening. We'll create the other brush types in future tutorials!

As always, feel free to post questions or comments!

Happy GIMPing!

Art