Good afternoon everyone! I'm on a roll today and would like to share with you a new way to fade between images like so:
Special thanks to droz for letting me use two of his userbars for the tutorial!
Special note: this tutorial requires GAP to implement. However, before you cringe and back away, we won't be using GAP in the "normal" fashion, which many folks don't like. We'll be using a new feature called the Morph tool (see my other tutorial I posted here regarding this neat tool). However, unlike my other Morph tutorial, we'll be skipping a bunch of steps and producing animated sigs in no time. And, MORE IMPORTANTLY, painlessly!
Also, you need to have some basic knowledge of GIMP before you proceed. I will not be addressing the basics.
You can use your own userbars or the ones I'm providing below:

[*]Open up your sigs in ONE GIMP image
[*]Add an alpha channel to the background layer like so:
[*]Duplicate your background layer and order them as follows:
[*]Go to the Morph tool using the following menu:

Once in the Morph tool, make sure you set your settings like so. Make sure you click the Shape Points button. This will add little control points all around the edge of your image to hold it in place. (Note, the green control points in each image)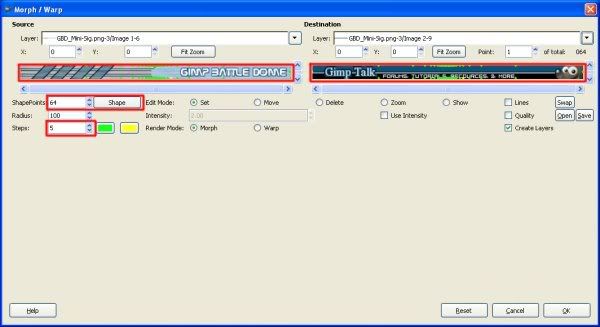 Make sure your Source Image (on the left side) is set to the Image 1 (or background) not the background copy. Set your Destination Image (right side) to image 2.
[*]In the steps box, I used 5. This is how many steps it will take to get from the Source to Destination image. You can use more or less.
[*] Hit OK
You'll notice that you now have several layers.
[*]Go back to the Morph tool and make the following changes:
Use Image 2 for the Source and Image 1 Copy for Destination. Make sure you hit the Shape Points button to hold the edges in place.
[*]Hit OK
We're almost home free!
[*]Go into your Layers dialog and make the following changes:
[*]Test your animation to see if you like it (Filters | Animation | Playback)
[*]Make changes as necessary to adjust to your taste.
[*]Optimize and save as animated gif.
You should have this:
How did you do? Pretty easy, eh!? Let me know if you have any questions. I may have left something out as I'm in a rush, but will follow-up with you later if you have questions.
Show me your work.
Happy GIMPing.
Art