I stayed up way too late last night rewriting this, so there may be some mistakes. Let me know!
Start with a new transparent image, 450 x 100
Choose Filters>Render>Clouds>Solid Noise. Leave the Detail at 1, Set x=2, y=2. Play around with the seed button until you find one you like.
Create a new transparent layer. Grab the rectangular selection tool and make a box 350px wide x 60px tall. Tip: Use the Snap to Grid function for easy sizing. Next, choose Select>Rounded Rectangle, set the radius to 90 and OK.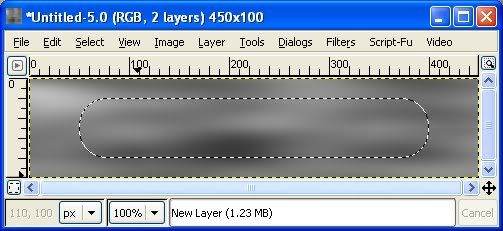 Fill your selection with whatever color you want your tube to be. Set the mode to Overlay. Keeping the selection active, click on the cloud layer, choose Select>Invert, Edit>Clear. You should now have just the tube visible. Merge the tube layer down to the background.

Stop right there! With the selection still active, go to Select>Save to Channel. This will save the rounded rectangle shape as a mask that can be activated instead of having to keep creating the shape and match size and location, and save some time later.
Insert a new transparent layer (Tube lower highlight) above the tube. Select>Shrink by 6. Set foreground color to white and click on Gradient tool. Gradient= Foreground to Transparent, Mode Normal, Reverse, Shape Linear, Repeat None, Dithering checked. Apply the gradient to approximately the lower third of the selection only. Unselect. Gaussian blur by 10. Set Layer opacity to 80 percent.
Insert a new transparent layer (Tube shine). Go to Channels dialog, click on Selection Mask copy. Click the pink box at the bottom of the dialog box (Channel to Selection). Select>Shrink by 6 again. Go back to the Gradient dialog and unselect Reverse. Apply gradient to upper half of selection. With the selection still active, select the Move tool and choose Affect selection (pink box) in the dialog. Drag the selection to the right 30 px and down 10 px roughly. Edit>Clear. Choose Select>None. Gaussian blur by 10.
Insert a new transparent layer (Tube lowlight) below the shine layer. Set foreground color to black. Do Channel to Selection; Select>Shrink by 16. Fill with black, unselect and apply a Gaussian blur of 25. Set the layer opacity to 25.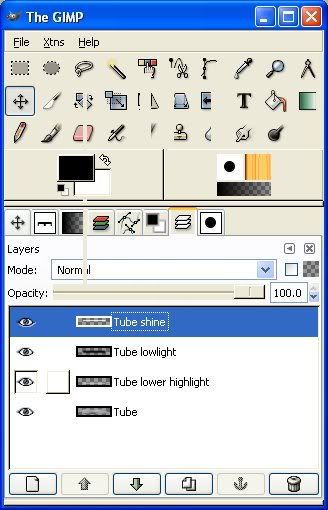 Image>Merge Visible Layers.
Next, Script-fu>Layer Effects>Bevel and Emboss, choose Outer Bevel and settings: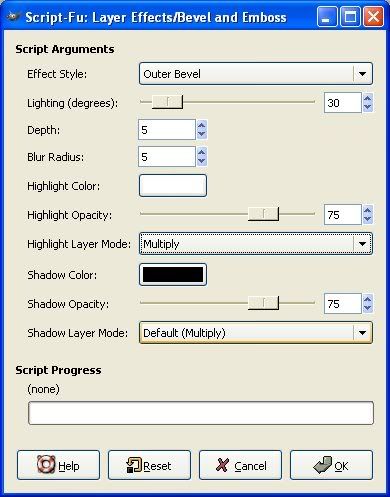 Script-fu>Layer Effects>Satin with these settings: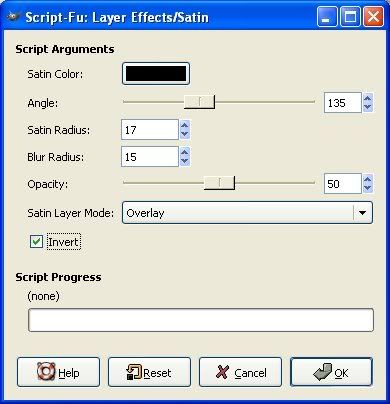 Merge visible layers again. The tube is now finished.

Wrap Layer 1:
Insert a new transparent layer above the tube. Go to Channels dialog and create a selection from the saved channel.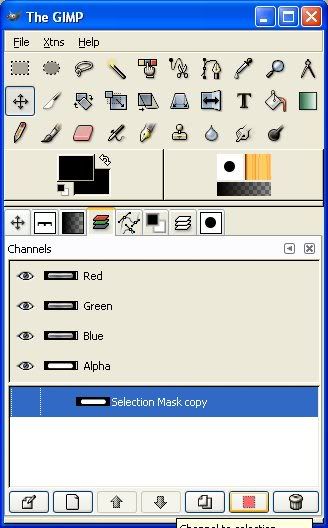 Fill with color of choice. Reset colors to black and white. Click on the gradient tool and set mode to overlay, Foreground to Background, Reverse. Apply gradient top to bottom of selection. Unselect.

Choose elliptical selection tool. Drag selection to desired shape over the end of the image.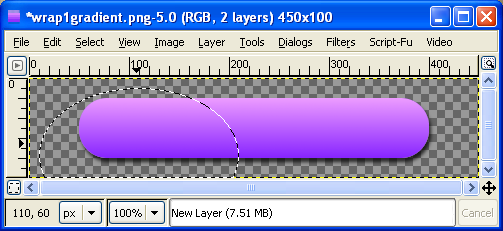 Edit>Clear. To mirror the cut on both ends, switch to the Move tool and reposition elliptical selection at opposite side and repeat Edit>Clear.
Script-fu, Decor, Add Bevel, Thickness 5.
Add a Drop Shadow, Offset x=1, y=1, Blur radius 0. Repeat drop shadow, but change the x, y offsets to -1.
Script-fu>Layer Effects>Inner Shadow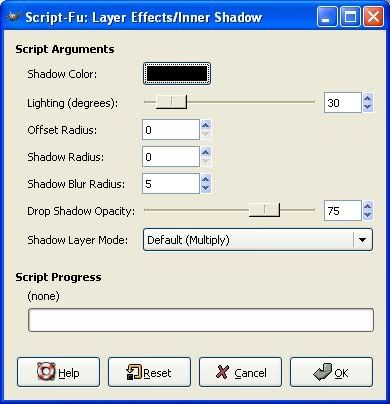 Repeat the above steps on the outer wrap layer, changing colors as desired.

Here's another attempt. Came out much better!

Add buttons, more cuts, text, whatever.....