by Punksnowboarder
Ok class, today we will be learning to create cartoon pictures in GIMP by creating custom palettes for photographs. If you have no idea what a palette is, then this tutorial is not for you.
We will start by taking a photograph: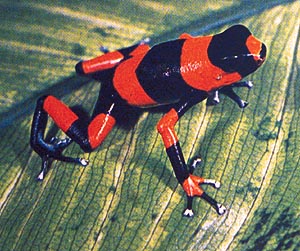 Apply a Gaussian blur (Filters > Blur > Gaussian Blur), anywhere between 2 and 15 pixels (don't lose too much detail)
I used an 8-pixel blur for this picture:
Now we are going to create a custom color palette for this picture.
Open your palette dialog (Ctrl + P), and choose the second button along the bottom, "New Palette".
You will come to another menu that will have a place to name your palette, and some buttons along the bottom, but, other than that, it is pretty much empty.
Take the
Eyedropper
tool (Push "O" for a keyboard shortcut), and select one color from a major part of your photo, and click "New Color from FG" (4th from the left on the New Palette menu).
Example:
I chose a red from one of the stripes on the frog to add to the palette.
Continue the above step as many times as needed, until you have taken a color from each part of the picture.
Remember:
The more colors you have, the more detailed your cartoon will be.
Once you have all of your colors and you have named your palette, save it by pressing the first button along the bottom of the New Palette menu, "Save". The button will seem like it does nothing, because you don't get a save screen, but it automatically saves the palette in the correct file type in the Palettes folder.
Now, if I haven't stumped you yet, get ready...
Go to
Image > Mode > Indexed
, and you will get a new screen that should look like this:
Use the settings I used above (with your palette, not mine). Don't forget to set
Color Dithering
to None.
Press OK.
Your picture hopefully looks something like mine. If not, then it is better than mine. I got a little lazy when it came to getting colors from
everywhere
.
Ok, class, let's see how you did!
Anything I should change on this? Any Questions? Comments? Concerns?