Click

HERE

to join the GimpTalk chat!
This opens directly in your browser using the mibbit client.
If you don't see any people on, click the button named "Idlers" on the top right.
Even if people don't talk to you right away, say Hi and hang around - many are online in the chat all day and might not notice you for a while.
Please try to use the same nickname as you use on GT!
Welcome!
The GIMPtalk chat channel is a place to discuss and get to know your fellow GIMP:ers in a more interactive and fast way. This IRC channel has recently relocated onto the GIMPnet network (irc.gimp.org), and is called #gimptalk (if you visited the chat earlier, on Dalnet, you need to change your bookmarks). If you already know IRC, that's all you need to know.
If you do not want to -- or cannot -- use the web-based mibbit chat from the huge link above, you can also use a stand-alone IRC client. These tend to be faster and have more features.
Look at the end of this post for a host of IRC clients you can try.
Some useful IRC commands
IRC is the mother of all chat programs, and there are plenty of powerful options available to you. All are accessed with commands beginning with /. Many clients have nice buttons to do these things for you without writing any commands too.
here
is a list of commands you can use:
Remember also that to find us, you MUST go to the GIMPnet server network. If you go to any other network and join the channel, you will either end up in another #gimptalk channel if it exists and happen to have that name, or you will create a new, empty channel named #gimptalk with only you in it. So make sure you log onto GIMPnet, nothing else. If the link above didn't work for you, once you are connected to GIMPnet (irc.gimp.org) with any client, give the command
 /join #gimptalk
to enter chat.
/join #channelName - join an IRC channel (example. /join #gimptalk, not needed if you click the link above)

/list - lists all channels on the gimpnet network. #gimptalk is one of those. Also the official gimp irc channels are on this network, but don't disturb the devs unless you really have reason (it can be fun to just listen in though).

/me -- refer to yourself. So if I would write /me grins, others see *Griatch grins*.

/away MyReason - sets you to away and allows you to give a reason for why. People doing /whois on you will see this message.

/whois NickName - gives info on another user in the channel. This is also how you check messages set with /away.

/msg NickName - open a private chat with a user (often you can do this from a button too) .

/help - get a list of all irc commands.
The Bots
There is a bot in chat called "GIMPtalk-bot" (there is also another called "Jester"). This looks like a normal user but is actually a program that manages channel operations and some fun stuff for us. Whereas normal IRC commands always start with a /, you talk to the bot and gives it commands by starting your line with @.
Good bot commands to know are:
/msg GIMPtalk-bot - talk in private to the bot (needed when giving passwords, also good for not spamming the common channel).

@seen NickName - gives the last time a person with the nick NickName was active in the chat.

@register MyNick MyPassword - register your nick with the bot, so you can be the only one to use it. (You have to talk privately to the bot).

@identify MyNick MyPassword - log in on the bot, if you had already registered (have to talk privately to the bot).

@list - lists all modules available to the bot.

@list ModuleName - list commands in a module (example: @list Games).

@help CommandName - get help on a command.

@help ModuleName CommandName - get help on a command in a specific module.

@praise NickName - hand out a random praise to NickName.

@insult NickName - hand out a random insult to NickName.

@roulette - play a round of russian roulette. Be careful though, if you are unlucky you will be killed ...
IRC with Firefox web browser (any operating system?)
If you use
Firefox
, you can download the extension
Chatzilla
from the official firefox extension pages (tools->Add-ons->Get Extensions in Firefox). Once it's installed, open the extension options and choose a nick in preferences menu (if you have a membership on GIMPtalk,we recommend using the same nick in IRC, for easier recognition). Next write
/server irc.gimp.net
, then
/join #gimptalk
.
The Firefox Chatzilla IRC client (Linux version)
IRC with Opera web browser (any operating system?)
The
Opera
browser has an in-built IRC client from the start. Just click the link and you should be good to go.
Windows stand-alone IRC clients
Internet Explorer
has no separate IRC client whatsoever, as far as I have discerned. Why this is, I don't know -- probably MS want to single out one of their own products instead, as usual. Anyway, if you're still using IE, you should ditch that and get Firefox anyway...
If you really, really want don't want to do that (because your uncle is Bill Gates and you'll loose your inheritance if you don't use IE), you need to get a stand-alone IRC program. Read on.
The most popular stand-alone IRC client under Windows is
mIRC
, and I really don't understand why, because it not only costs money, it's also so ugly there's no end to it. It works, but I think you'll find it ugly and unattractive.
The mIRC IRC client. Yes -- it really looks like this.
Rather, I would recommend
Xchat
(this exists for Linux too). In xchat, all you need to do is set your nick, find "GIMPnet" in the network list, connect to it and then write
/join #GIMP
to get into the chat channel. Simple as pie.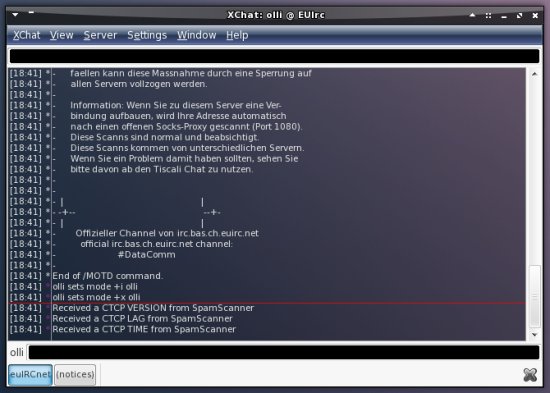 The Xchat IRC client (Linux version, Windows works the same).
Tarkenfire did a great and easy tutorial on how to install the free stand-along IRC client Trillian: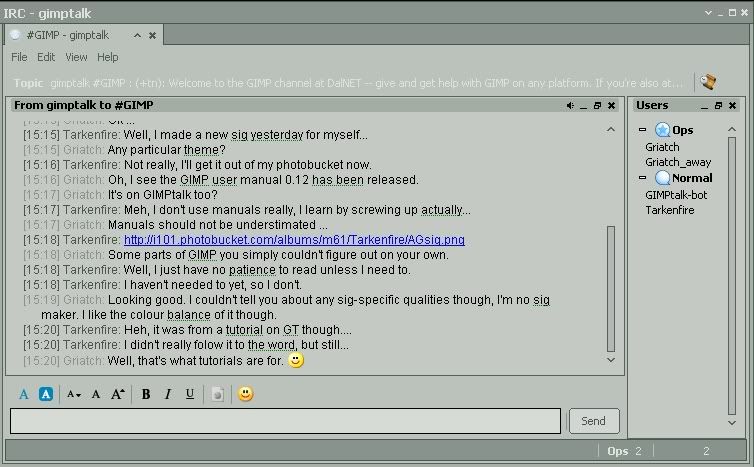 You can find the step-by step tutorial on Trillian
here.
.
There is a long list of Windows clients found
here
.
Post below if you find any other good programs to use under Windows.
Linux stand-alone IRC clients
If you use Linux, you'll almost certainly have a stand-alone IRC chat program like xIRC or kSIRC included already, even if you for some reason don't like Chatzilla. Xchat (see Windows clients) also exists for Linux.
kSIRC, Linux only
Mac stand-alone IRC clients
I can't help you with Mac programs, but I bet it's similar there. There is a list of clients
here
though. Check it out and let me know if they're any good.
X-chat Aqua, MacOSX
HINTS from the thread, in case you have trouble connecting
repsa-jih said:
If you can't seem to connect to any servers:

- Check your firewall settings
- Try ports 6667, 6666, 6668, 6669 (in that order)
This is an experiment to see if there is an interest in this kind of chat. You're welcome to drop by! Also, if you like to keep the channel alive and populated, try to bump this thread now and then, so other people see it and can join in.
Welcome!
.
Griatch