Allright, this is a text manipulating tutorial for the gimp.
Outcome:
You'll need some experience with paths to follow this tutorial!
Start out by creating a blank document and adding some text in a sans font. (Arial, Sans, Tahoma...)
Hide the text layer. In the text tool, there should be a button "create path from text". Go ahead, press it.
Swap to the path tab/layer, right click your freshly made path and do "path tool".
We'll start on the "A". Zoom in, grab an anchor and move it as you like.
Repeat it with the other anchor, but keep it slightly higher than the first one.
Now grab the curve in between and make it smooth.
Grab the left handle, and put it back on the anchor, so we get a sharp point.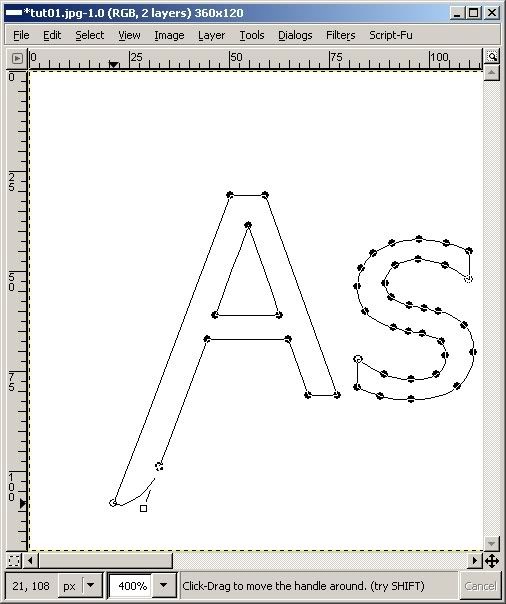 Now time for "S"-editing! Zoom in to the S. We want a sharp point here as well, right?
Select one of the anchors...
And delete it! Muahahaha!
Again, move the handle so it's smooth.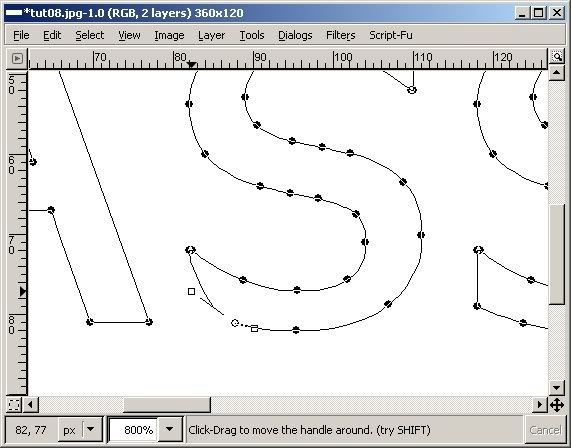 Now we merge the other "S" with the "A". Start by deleting some anchors on both of them, then all you
have to do is drag the anchors to eachother so they sort of merge.
Repeat these techniques, be original and try other tricks with the path from your text.
Finally, in the path tool, press "create selection from path". Then fill your selection
in whatever color you want. I also added a "Drop-Shadow" effect.
And; another tip, save your text path! In the path tab/dialog, right click the path and use "Export Path".
Save it as .svg (Don't forget to add this extension as GIMP doesn't automatically do this for you). You can
now use the this path when you need text for a signature! And, don't forget, paths are verctor-based, meaning
perfectly scalable!
Please, post your outcomes!